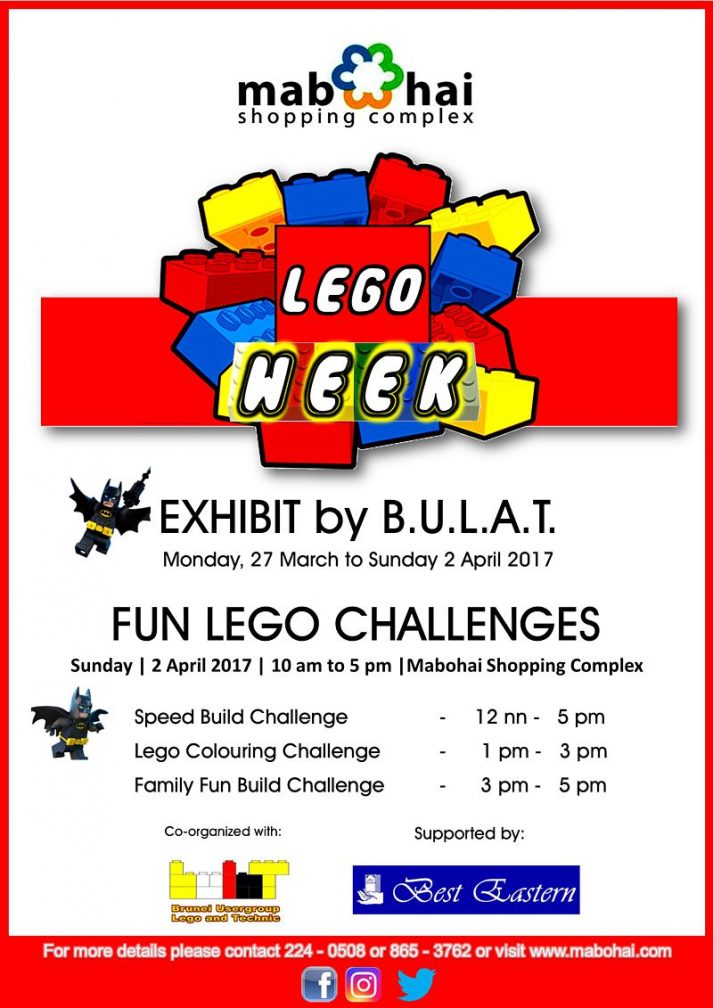 For the Lego Community, its Lego Week at Mabohai Shopping Complex featuring our friends from the Brunei Usergroup Lego and Technique (B.U.L.A.T.).
The Lego Exhibit will start on Monday, 27 March and run until Sunday, 2 April.
And on Sunday, 2 April, enjoy Lego based community activities like:
1. Lego Speed Build Challenge – come and see how fast you can build a pre-determined lego kit and win top honors.
2. Lego Colouring Challenge – sign up on that and see how good you are at colouring. Two Categories – Category A – 4 to 7 years old and Category B – 8 to 12 years old. Prizes provided by Best Eastern Bookstore. Don't forget to bring your own colouring materials.
3. Lego Family Build Challenge – enjoy building a Lego set-piece with your family! Create your own set piece and see which one is the best in this family challenge. Bring your own Lego for best results.
Its an action packed community weekend at Mabohai Shopping Complex so come and have fun with us.
Please contact us at 8653762 for more details.