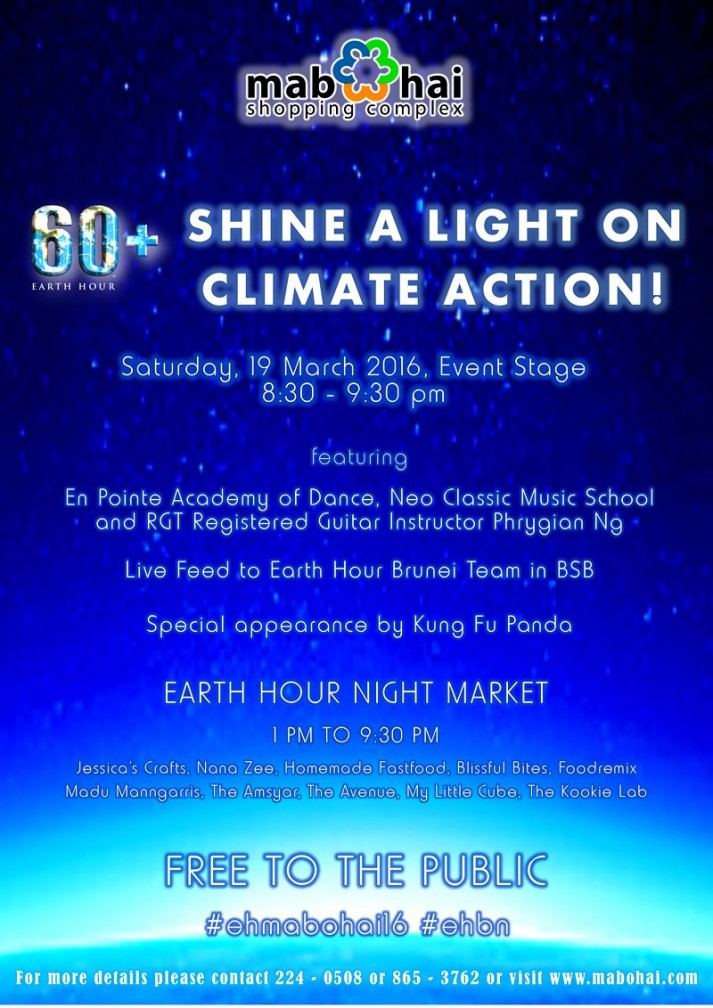 Mabohai Shopping Complex in partnership with Earth Hour Brunei is delighted to celebrate Earth Hour 2016 on 19 March 2016 with a series of activities.
The Event will start with a Night Market at the complex where e-vendors will showcase their products from 1:00 pm till 9:30 pm. Come and enjoy the evening while waiting for the Earth Hour Countdown at 8:30 pm and support local businesses.
The highlight of the evening will be the Earth Hour Countdown at 8:30 pm which will be linked to Earth Hour Brunei activities in Bandar Seri Begawan by a live feed. Our shoppers will then be treated to a cultural presentation featuring recital numbers from En Pointe Academy of Dance, Neo Classic Music School and a registered guitar instructor, Phrygian Ng.
Yee-Man Cheng, Complex Manager said:
"Mabohai Shopping Complex is honored to mark Earth Hour in partnership with Earth Hour Brunei. We would like to invite the public to come and participate in our numerous activities. It will be an experience that will warm your hearts as we show our support for this important cause and share our love for Planet Earth with millions across the globe, sending a powerful message that everyone wants a sustainable future."
Should you wish to book the Event Stage of the Mabohai Shopping Complex for your events and activities, please call us on 8653762 and 7250110. Or find us on Facebook, Instagram and Twitter.