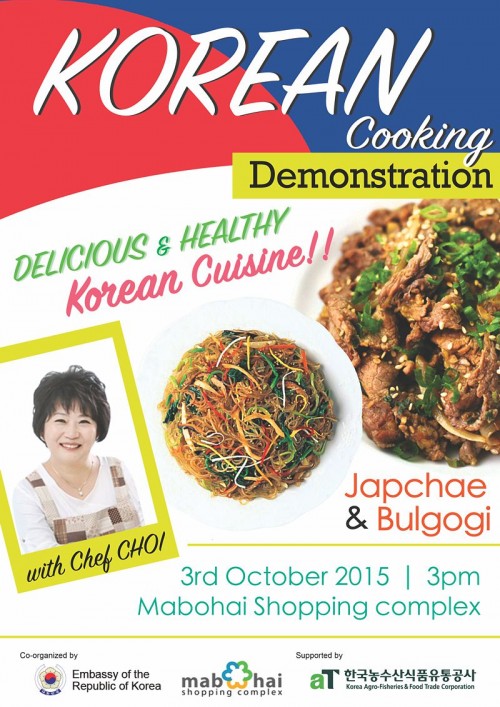 Mabohai Shopping Complex, in cooperation with the Embassy of the Republic of Korea, is conducting its first ever Korean Cooking Demo on Saturday, 3rd October 2015 at 3:00 pm at the Event Stage of the complex.
Conducting the Demo will be Chef Yoon-Mi Choi. Chef Choi is a well known figure in Korea having appeared in several Korean TV programs like KBS Live Today, KBS Ask Anything, KBS Life Good Studio and KBS Morning Wide to name a few. She specializes not only in Korean Cuisine m but in Chinese and Western Cuisine as well. Among her achievements are a Silver Medal in the Chew Young Roo Dumpling Cooking Contest in 2006, a Gold Medal in the Yeoju Rice Culinary Contest and a 1st Award in the 2009 Lee Kum Kee Culinary Suggestion Contest.
Chef Choi is currently an Instructor at the Yeoju Culinary School, National Seoul Culinary School and the Yeoju Women's Hall. She is also the CEO of Yeoju Dek's FOOD STORY.
For her demo on Saturday, she will be preparing Japchae, a popular Korean dish made of sweet potato noodles with assorted vegetables popularly served at parties and gatherings, and Bulgogi, which is grilled marinated beef in sauces.
Ms Yee-Man Cheng, Manager of Mabohai Shopping Complex said:
"We are delighted and honoured to be able to work with the Embassy of the Republic of Korea and Korea Agro-Fisheries and Food Trade Corporation, in conducting our first Korean Food Cooking Demo. We welcome Chef Choi to our complex and we invite the public, specially food lovers, to come and see the demo and learn the method of cooking these two popular Korean dishes, first hand from a multi award winning Chef."
Should you wish to book the Event Stage of the Mabohai Shopping Complex for your events and activities, please call us on 8653762 and 7250110. Or find us on Facebook, Instagram and Twitter.