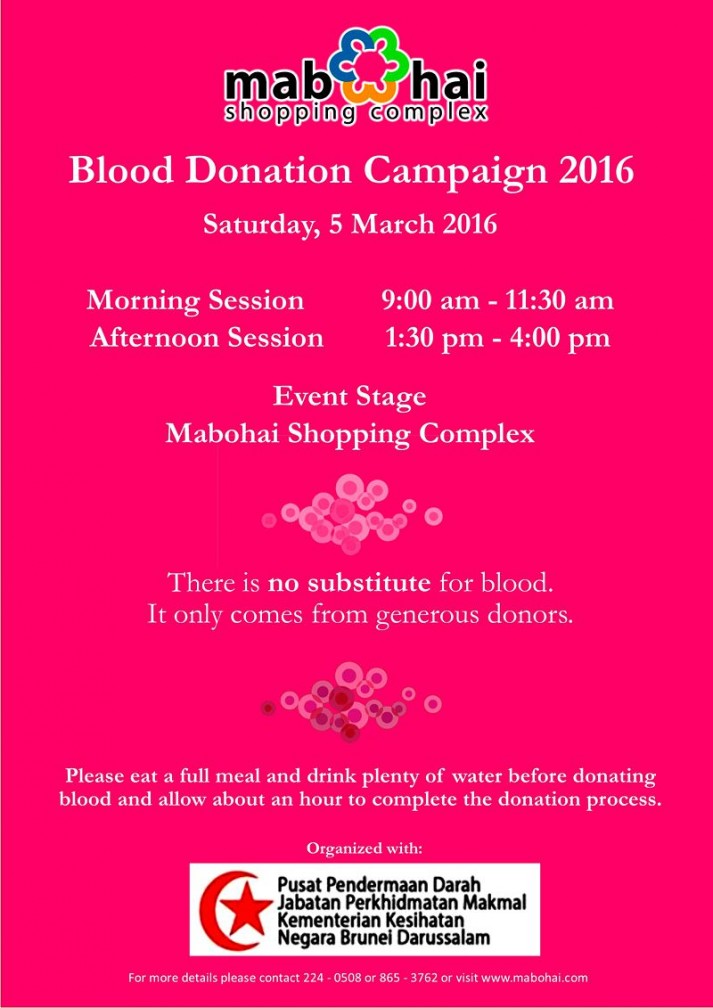 Mabohai Shopping Complex in partnership with the Blood Donation Centre of RIPAS, invites the public to donate blood at its first blood donation drive for 2016 to be held on Saturday, 5th March 2016, at the Event Stage, 1st Floor, Mabohai Shopping Complex. Two sessions will be held to accommodate as many people as possible, from 9 am to 11.30 am and from 1.30 pm to 4 pm.
A strict screening process is conducted for each potential donor to ensure that they pass the required standards in order to be able to donate blood. From the screening process, all donors will learn their blood pressure rate and hemoglobin count and first time successful blood donors can find out what their blood type is after the donation.
The blood donation drive is an ongoing community service project of Mabohai Shopping Complex which it organizes jointly with the valuable help of the Blood Donation Centre of RIPAS. Since 2014, approximately 160 pints of blood have been donated through the Mabohai Shopping Complex.
Ms Yee-Man Cheng, Manager of Mabohai Shopping Complex said:
"We hope that our first blood donation drive for this year will attract new and previous donors alike. If you have never donated before, do drop in for a short free medical check and see the simple and quick process of an individual donation. Light refreshments will be served and we look forward to seeing more people donate and help save lives".
Should you wish to book the Event Stage of the Mabohai Shopping Complex for your events and activities, please call us on 8653762 and 7250110. Or find us on Facebook, Instagram and Twitter.