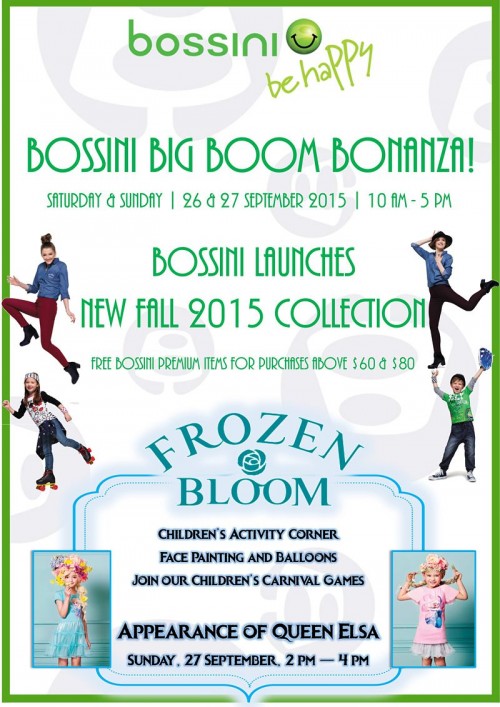 It will be a real Bonanza at Bossini on 26 & 27 September 2015 as Bossini invites the public to its "4 B" Event – the Bossini Big Boom Bonanza held at our store at Mabohai Shopping Complex.
Bossini's Big Boom Bonanza will launch its Fall Collection and at the same time continue to promote its Frozen Bloom line of Children's clothes which are available at both Bossini Mabohai and Kiulap Branches.
What's so special about the weekend is that there will be fun activities and special promotions for all shoppers. Children will have fun at the Kids' Activity Corner with books, colouring materials and puzzles to play with. There will also be games like Pin the Nose on Olaf and other Frozen themed games.
To top it off, free Bossini premium items, face painting and balloons await customers who spend above $60 and $80 in a same day single receipt.
The Management of Bossini said:
"Keeping up with the world wide fashion trend is what we try to accomplish by launching our seasonal collections, and with our "4 B" activity this weekend, we hope that Bossini fans will enjoy the Bonanza that we have prepared for them. Come with your children and let them enjoy the fun activities while you browse the collection at Mabohai Shopping Complex".
Bossini branches are located at B09, Shakirin Complex in Kg Kiulap and at Unit 108, Mabohai Shopping Complex in Bandar Seri Begawan. The shops open from 10:00 am till 10:00 pm.
Should you wish to know more about the collection, please call Bossini at 2234109 Or find us on Facebook, Instagram and Twitter.