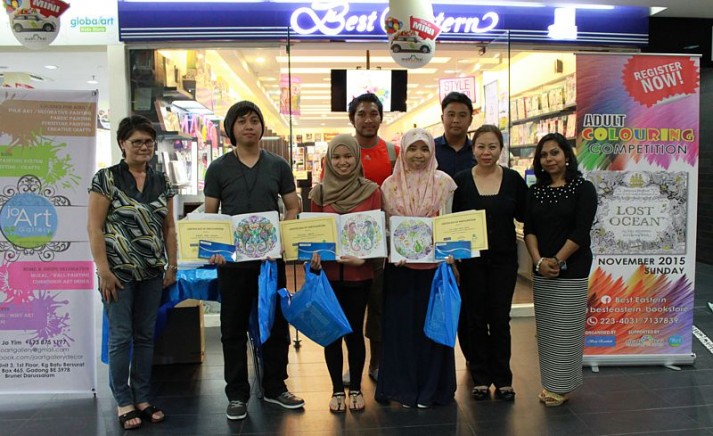 The Second Colouring Competition for Adults organized by Mabohai Shopping Complex, in partnership with Best Eastern Bookstore and JoArt Gallery drew very talented participants on Sunday, 1st November 2015.
The competition, based on the new book "Lost Ocean" by Johanna Basford attracted 33 participants of a high level of technical and artistic capability, according to the team of judges. Targeted towards everyone above 18 years old, the competitors showed excellent colouring and blending skills.
Judges for the competition were Jojo Yim, Head of Jo Art Gallery, Nitisha Kashyap and Nabil Fikri Haronli, Art Instructors at Jo Art Gallery.
The following were the winners after a grueling round of judging by the panel of Judges provided by Jo Art Gallery.
1st Prize – Wathiqah Khalidi won $200 worth of Gift Vouchers
2nd Prize – Nur Liyana won $150 worth of Gift Vouchers
3rd Prize – Robert John Mendoza $100 worth of Gift Vouchers
An additional 5 contestants were awarded consolation prizes of gift vouchers worth $50 each. All winners also received a copy of Millie Marotta's 'Tropical Paradise" colouring book and all prizes were sponsored by Best Eastern.
Ms Yee-Man Cheng, Manager of Mabohai Shopping Complex said:
"Congratulations to everyone who gave it their best and a special congratulations to the top winners of the competition for a job well done. We would like to thank Best Eastern & JoArt Gallery for partnering with Mabohai Shopping Complex in creating a challenging and rewarding event for all contestants. Special thanks go to Starbucks for keeping the contestants hydrated and refreshed with their newly launched beverages, the Duo Cocoa Mocha Frappuccino and Dark Caramel Frappuccino. We hope everyone had a wonderful afternoon of colouring and had a relaxing and enjoyable time with us."