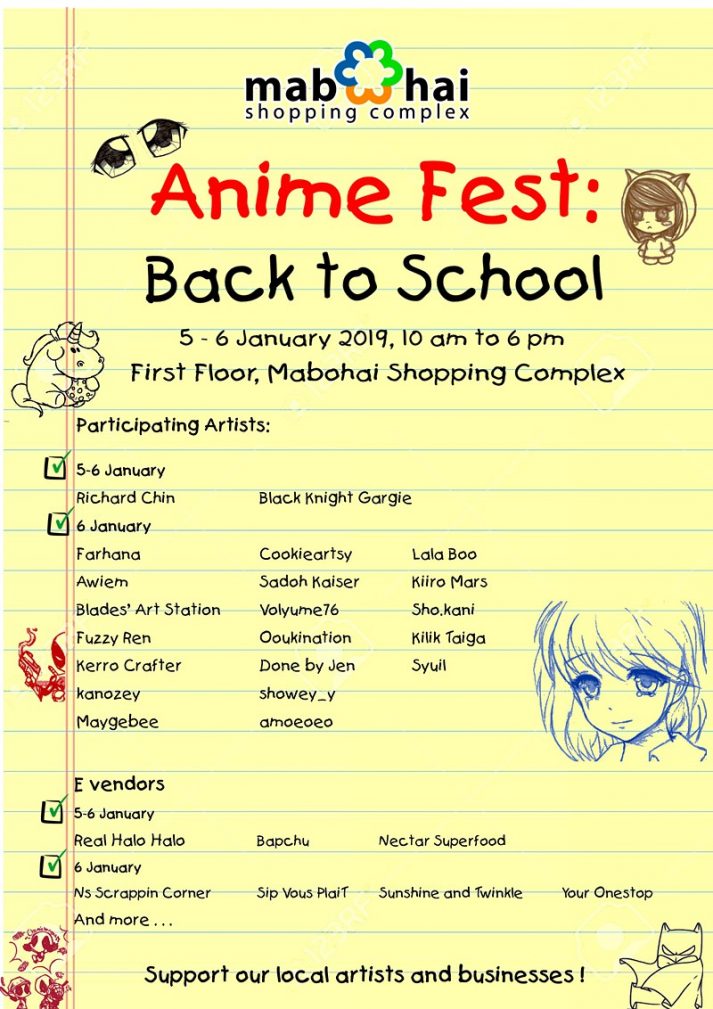 It's Back to School time! Join our friends as we hold an "Anime Fest: Back to School" Theme featuring Artists works and E Vendors at Mabohai Shopping Complex on the 5th and 6th of January!
Joining us will be Brunei's very own local artists like:
Richard Chin, Black Knight Gargie, Farhana, Awiem, Blade's Art Station, Cookieartsy, Lala Boo, Sadoh Kaiser, Kirro Mars, Volyume76, Sho.kani, Fuzzy Ren, Ooukination, Kilik Taiga, Kerro Crafter, Done by Jen, Syuil, kanozey, showey_y, Maygebee and amoeoeo!
E Vendors will also be on hand like Real Halo Halo, Bapchu, Nectar Superfood, Ns Scrappin' Corner, Sip Vouse Plait, Sunshine and Twinkle, Your Onestop, We Serve Property and more. . . .
So make it a date with our favourite artists as they dress up in My Hero Academia outfits during the Anime Fest: Back to School Event, brought
to you by Mabohai Shopping Complex, the Family Shopping Complex.
See poster for schedule of artists and e vendors.